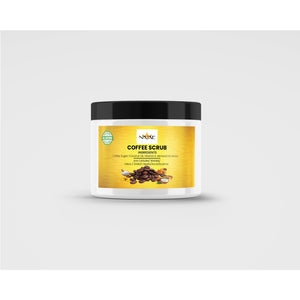 The caffeine found in coffee scrubs increases blood flow, and reduce the appearance of cellulite and give your skin a more even tone. Our Body/Facial scrub will have your skin feeling so silky and smooth. Coffee acting as a natural anti-aging agent contains properties to combat current acne and prevent future breakouts.
Benefits of using our Coffee Scrub
-anti-aging
-puffy eyes and dark circles
-Reduces appearance of cellulite
-prevent clogged pores
-tightens skin
-rid of acne and pimples
-soothes inflammation
Ingredients:
Coffee, Almond Oil, Vitamin E, Coconut Oil, Sugar, Honey
The caffeine found in coffee typically increases blood flow, and reduce the appearance of cellulite and give your skin a more even tone

Almond oil is a remedy for all kinds of skin problems like acne, psoriasis, and eczema. It soothes irritation and relaxes the skin. Almond oil is emollient. Its moisturizing property helps cure skin diseases like eczema and psoriasis 

Vitamin E can be used to treat a variety of skin conditions 

like acne, psoriasis, and the aging effects from sun exposure on your skin.
Coconut oil is also known for its anti-aging properties. It hydrates skin for 24 hours and helps to improve skin elasticity and collagen production. 

Sugar 

contains minerals

 that are good for your face/body. Along with the glycolic acid found in natural sugars, the minerals can be 

protective to your skin keeping toxins out

.

Sugar scrubs brighten tired, dull looking skin

 

to promote healthy, smooth, and flawless skin.
Honey is naturally antibacterial, so it's great for acne treatment and prevention. It also helps even out skin tone.
Instructions
Massage onto face using gentle circular motions. Rinse and pat dry.I recommend using this scrub if your not in a hurry since it can get a bit messy. First, start with clean face/body. With dampen skin take as much desired of Sugar Coffee Scrub and massage the mixture onto your skin. (face,body) Let sit for max. 15 min. rinse and follow two-three times a week to see results. For all skin types!
*Store in cool space*
*PLEASE BE SURE TO INCLUDE YOUR UNIT/APARTMENT IF LIVING IN COMPLEX/APARTMENT BUILDING AT CHECKOUT OR IT WILL BE RETURNED AND YOU WILL BE INVOICED FOR SHIPPING COSTS.*