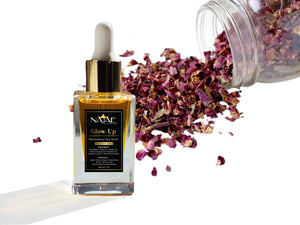 OUR " Glow up Face Serum " is created for all skin types made with only 4 organic Plant based ingredients.
🫐Blackberry Seed Oil
Blackberry is a superfood for skin as it is rich in anthocyanins, an antioxidant that reduces fine lines and wrinkles. Moreover, blackberries also contain vitamins A and C, which further shield the skin from damaging UV rays and reduce the appearance of wrinkles.
🌱JOJOBA OIL
Easily absorbed & leaves no residue Balances oily skin Resembles skin sebum Anti-Microbial & effective for acne Combats oily skin better than an oil free moisturizer Rich in Vitamins and Minerals.
🍑Apricot Kernel Oil
Promotes Radiance . Apricot oil is also naturally high in Vitamin E which boosts the skin's ability to retain elasticity and clarity by helping to protect cells from damaging free radicals (such as environmental pollutants), promoting a more radiant complexion. And that's one of the many reasons why we include apricot oil in our vegan and cruelty-free Facial Oil. 
🌹ROSEHIP OIL 
One of the highest oils in Vitamin C "Dry oil" with fast absorption High in Vitamin E Balances sebum production, which nourishes and balances oily skin High in Vitamin A which enhances cell generation & promotes collagen Reduces scars, UV damage, stretch marks & sun spots.