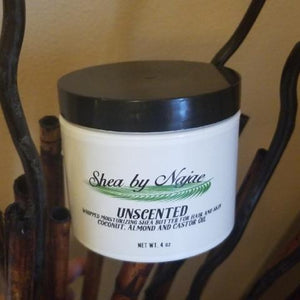 Our Unscented whipped Shea Butter 100% pure and natural will enhance the appearance of your skin it's anti-inflammatory healing property's made with natural ingredients including Coconut, Almond and Castor oils has multiple benefits for Skin. It reduces oily Skin ,clears Cellulite reduces puffy skin, fights acne and works for blemishes ,blackheads, eczema, dermatitis and as a skin toner! Our Shea Butter blend removes dandruff repairs damaged Hair promotes Hair growth and excess oils on the scalp and hair which keeps your hair looking silky and shiny!
Providing up to 24 hours of skin and hair hydration.
Use: Massage Into Skin and Hair! It Works Even Better Straight After A Bath Or Shower.