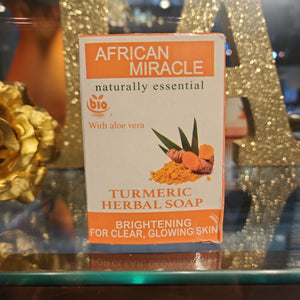 Our all-natural turmeric soap is proven to cleanse and brighten to promote a healthy, more even-toned complexion, leaving your skin smooth and radiant.
Made from the purest ingredients, our natural turmeric soap is gentle enough to wash sensitive skin, acne prone skin or aging skin. It makes the skin brighter and healthier.
Use turmeric soap as a turmeric face wash or skin lightening body wash. Considered the best dual action turmeric bar for face and body, it can be used in the bath and shower.
Leave the lather on the skin for a few minutes to use the skin brightening soap as a turmeric mask for hyperpigmentation, age spots or dark spots. Use to cleanse or treat spots from head to toe.